How do you get paid?
You will be paid from anything you decide to sell on your website mainly. Depending on the business that you decide to buy, you will of course be selling your own products and / or services and also from affiliate marketing, for one, or any multitude of companies. Obviously the more companies that you are selling for, the more money you are going to make.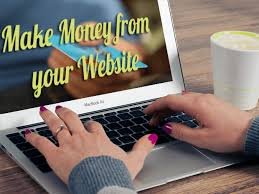 You may also get paid BIG money by allowing and selling advertising space on the pages of your website. This is commonly done with almost 100% of every website in existence today! It is your choice to sell your advertisement space, by the month, or annually.
Additionally you may also get paid through Google AdSense (free account to set up), or any other affiliate ads you would like to place on the site. You also get paid for advertisements people place on the site for their company. The amount for these paid ads is set by you and can be set to free, one-time charge, subscriptions for daily, monthly or yearly payments schedule.
Currently any of the ESTABLISHED PREMIUM WEBSITES for sale on this site, are connected to my PayPal account. I will change this to the buyers PayPal account, or we can set up another credit card processor listed in the back-end of the site if you wish and do not want to use PayPal.
These are just a few of the many way that you can generate income, 24/7 days a week, even while you are sleeping.
Note: PayPal doesn't allow transfer of subscription payments, so you will get payments on all new signups only if you buy a membership income driven site; Such as one of our dating websites for sale. Once those memberships expire, you will be able to renew the current paid members under your own PayPal, or bank account.
Important Note: All websites require marketing to be successful. After the purchase you will want to get to work on promoting the site. Most readers will already know this but being in the web development business I have seen many people think they can just sit there and wait for money to roll in…  This is never the case with ANY business, online or off! The good news is your successful efforts will be rewarded! You can promote the site in your free time, day or night, on your own schedule!
Does the buyer need any knowledge of website code?
No, the back end control panel is all laid out nicely so if you can navigate the Internet you can manage this site. All day-to-day operations are fairly self-explanatory and the software that runs the site is very well documented, most have step by step information and screenshots to help guide you if you get stuck.
Once the site is set up with your payment information to send payments to your account, not much else has to be done in order for the site to function and pay you.
In the future you may want to upgrade the software that runs the site. If you are not tech savvy this is where you may need to hire a professional such as myself and I am very affordable to my past client's. I will be available immediately after the sale if needed for 24 hours at no additional charge to you. I know the ins and outs of the website very well. Past software upgrades have only taken me about an hour or so to complete. With the current version of the software you should be all set for a year or two, possibly longer.
Even after the 24 hours after you take ownership of your website(s). I offer a very affordable monthly maintenance and management program. That way it keeps you free to keep promoting, marketing and making money!
What happens after the sale?
After the sale we need to confirm payment is secure, and cleared. During this time we can grant you access to the back-end of the site. I can also add your PayPal information info your site if desired. I will also walk you through some of the basic functions of the site if needed.
Once we have confirmed the payment is cleared we can transfer domain name ownership and hosting services. You can either move the site to your own server or maintain the current website hosting on our server for  a 1-time payment of $35.00 for 1 year. If you would like to get your own hosting however… I strongly recommend Hostgator.