Assisting Business Start Ups
The new payment plan is especially useful for new start-up's with limited funds to invest in large one off costs for a website.
Splitting the cost of your new website into 12 regular monthly payments offers lots of benefits to budgeting in the early stages of life as a new business owner.
One major benefit is gaining an advanced website with more features that can start to generate revenue right from the outset with e-commerce solutions or booking facilities that require more website development than a standard website.
A Complete Website Package – $33/Month
Website Design For A Custom $1,800 Website Including; A .com Domain Name, Hosting, Ongoing Maintenance & Updating, SEO, Marketing Guidance, and More!
***the total amount you will pay for this website is $399 and then you will own it completely forever. There is no interest applied, no prepayment fees, or cancellation fees.***
WHAT'S ALL INCLUDED IN THIS PACKAGE
  Setup & Design: A   Single Payment Of  $99
Up to 10 pages included.

Hosting Included.

20 Keywords Added To Your Website – Value $50

Professional Website Design Theme – Value $200+

Mobile Responsive Design – Value $500

Initial Design & Setup, Security & Performance testing, Customizing & SEO Of Website. – Value $250

Addition & Embedding Of Your Media & Content Into Your Website (images, video, text, products) – Value $300

Continuing Client Service Support Anytime You Need – Value $500+

Full SEO To Make Your Website Search Engine Friendly – Value $100

Free Search Engine Submission To Google & Bing  – Value $70

Optional Email Addresses Setup On Your Domain (yourname@whatever.com) – $40 Per Email Address.

TOTAL WEBSITE VALUE OVER: $1,900+
Professional hosting on our dedicated servers.  $20/month

Ongoing maintenance – website updates, edits, backups, technical support, etc. – Value $50/month

Local continuous backups twice per month. – Value $20/month

SSL Certificate to secure your website. (HTTPS, Domain Validated) – Value $10/month

Traffic statistics reports delivered right to your websites owners panel.  – Value $5/month

Optional Ongoing marketing tools at your disposal – Value $50/month+

Your own owners panel / back office access to your websites dashboard to make changes to your website website anytime you ant.

TOTAL MAINTENANCE VALUE: $160/month+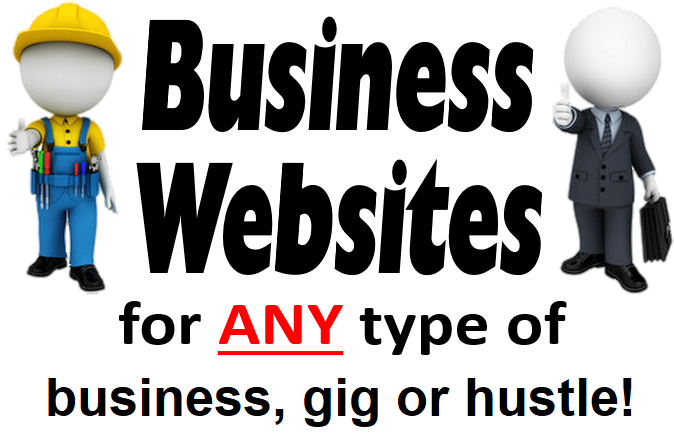 Terms & Conditions
Setup time for new website is typically 5 – 10 business days. Every website is different and total time for completing depends on the speed of communications and the overall complexity of the website project.

If domain name is included in the package, domain name will remain under our management but can be transferred to the client upon final payment of their website. We encourage all our clients to purchase and own their own domains.

Payment is by PayPal / credit card and will be billed monthly with first monthly payment 30 days after payment of one-time fee.

Payments over 30 days late will result in deactivation of the website after a warning email.

Monthly service can be cancelled anytime but no refunds will be given for past payments.

Website will be deactivated upon cancellation.
Once you subscribe to our monthly website package, your website will be ready for review in an average of 5 – 10 business days.
This service has been designed for small business owners who would prefer to pay for a website on monthly basis (in small amounts) as compared to paying a lump sum.
All our pay monthly websites are highly optimized and fully managed by our team of WordPress experts.
Answer a few questions about your website needs
We'll start work designing your website
Approve your website and GO LIVE!!
WITH AN EASY TO BUDGET MONTHLY SUBSCRIPTION FEE AND FULLY MANAGED SERVICE, WE TAKE CARE OF YOUR WEBSITE SO THAT YOU CAN FOCUS ON YOUR BUSINESS.
EASY MONTHLY PAYMENT
Affordable, fixed monthly payments, saving you large upfront fees.
NO LOCK-IN CONTRACT
No hidden fees. No surprises. We have to earn your business every single month.
STYLISH WEBSITE DESIGN
Modern, stylish designs that are conversion based and aligned to your business.
PREMIUM HOSTING SERVERS
Hosted on industry leading technology, with around the clock monitoring and some of the fastest loading times available.
UNLIMITED TECHNICAL SUPPORT
Other companies charge you every time you have a problem. Not us. Never worry about unbudgeted costs if you ever need help.
NO MINIMUM TERMS. NO RISK
Your best option if you only need the website for a short period of time.
SOFTWARE AND SECURITY UPDATES
Performance & security scans keep your site secure without you having to think about it.
WEBSITE UPDATES INCLUDED
No need to learn website code, or CMS systems. No Tech Headaches. We take care of any updates for you.
Our experts build your site so you can focus on your business.
We do the hard work for you, and provide you a terrific monthly payment, saving you the countless hundreds, even thousands of dollars by having to buy your website all at 1 payment.
We LOVE our client's and their success, is our success. Allow us to work for you now on your new website and take the monthly journey with you as one of your trusted partners in business!
WE DO THIS
 

DOWN TO EARTH PRICING

$33.00 per month + One Time $99.00 setup fee.

 

HOSTING INCLUDED

Premium high performance hosting on world leading technology. 

 

SUPPORT INCLUDED

Unlimited Free Support.

 

AUTOMATIC SOFTWARE UPDATES

We regularly update your website software.

 

DAILY BACKUPS

We will backup your website every day.

 

NO LOCK IN CONTRACT

We earn your business every month. No minimum terms.

 

REGULAR SECURITY UPDATES

We block thousands of attacks, and update our system daily. 

 

MOBILE RESPONSIVE WEBSITE INCLUDED

Your website will look great on all devices.

 

WEBSITE STATISTICS INCLUDED

Free access to your website activity reports.

 

ADVICE AND HELP

No invoices for advice and help.
WHEN OTHERS DO THIS
 

EXPENSIVE UPFRONT FEES

$1,500.00 – $2,500.00 minimum.

 

HOSTING ADDITIONAL

Additional fees ($30/month) with potential reliability issues.

 

SUPPORT ADDITIONAL

$150.00 – $300.00 per hour.

 

SOFTWARE UPDATES

No automatic or free updates on website software.

 

BACKUPS

You are responsible for your own backups.

 

CONTRACTS

Lock in and enforced.

 

NO SECURITY UPDATES

No automatic or free updates to website security.

 

MOBILE RESPONSIVE

Often an extra fee.

 

WEBSITE ANALYTICS

Additional fees apply.

 

CONSULTING FEES

Expect an invoice for any time spent advising or helping you. 
You'll Own A New Website, Fully Managed With Unlimited Help and Support for less than $1.20 a day! Click Below To Own